What follows are links to our current and past newsletters, called Circuit Rider, all of which are in PDF format.
Want to know the weekly buzz? Click here for this weeks bulletin!
2018
2017
2016
2015
2014
Do We Have Your E-Mail Address?
We send our monthly Circuit Rider via email when possible – and of course have it available on the web.
We began with the December/January 2009 issue.  It has worked well through the years but we honor your request to receive a hard copy. Those on email will also receive the Short Circuit, a weekly email with important updates and reminders.
Knowing full well that our records will not be 100% up-to-date regarding emails, it will be a trial and error process. Just send a short note via email to office@woosterumc.org.
Here are some other facts that would be helpful for the office to know: Have your adult children moved out of your home and are on their own? Perhaps they have their own apartment and are still receiving church mail at home. Perhaps they are still living at home but would like to receive their own church mail at your house. Perhaps they are in college or military and would like to receive the Circuit Rider by email.
Those without email will continue to receive the Circuit Rider by traditional post and hard copies will be available at church.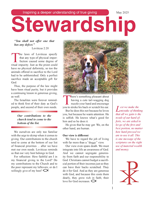 Click image for this month's Stewardship