Greetings!
The United Methodist Book of Worship defines Christian worship as "an encounter with the living God through the risen Christ in the power of the Holy Spirit." In our 10 a.m. service of worship, we are convinced that the living God is made available and apparent to us, and we are convicted of our task to make God known to the world through our words and our works, through our teaching and our preaching, through our songs and our celebrations. Join us, then, as we seek to celebrate God's presence, and to serve Jesus Christ by the power of the Holy Spirit, in diversity and in unity
Sincerely,
Charles E. Tobias
Senior Pastor
---
10:00 a.m. Service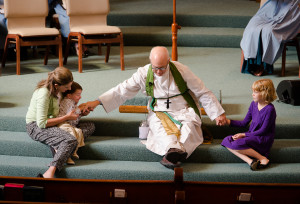 One service of worship, offering age-specific options for babies, children, and youth
Location: Sanctuary facebook_account youtube_account
Holy Grounds coffee fellowship before and after service

Click here for bulletins for each service.
New to WUMC?
What should I wear?
Whatever is comfortable. In our service, you will see some in their Sunday best and others in jeans and t-shirts.
Where should I park? 
You can park in the lot behind the church. There is an alley entrance on Market and Larwill and a back entrance on North Buckeye. There is special needs parking in 2 lots for Sunday morning and handicapped accessible parking.
What doors do I enter?
The glass doors near the parking lot are handicap accessible. The Market Street door nearest the parking lot is open on Sundays too. Our old beautiful building has been built on to and added on to many times in our 200 year history and the result is a bit of a maze, so look for greeters and signs to point you on your way.
Is the building handicapped accessible?
Yes! We have ample parking, an elevator and several ramps to make sure our Church family is welcoming to everyone.
How long are the services?
All our services typically last an hour.
What Small Groups do you offer on Sunday Morning?
Our Sunday small groups for adults meet from 8:45-10:00a.m. We offer options for children and youth from 10:15-11:00. Nursery care is available 9:45-11:15a.m.
Learn more about getting involved, Children and Youth programs, service opportunities, and volunteering in our Get Connected tab.
---
Sermons